<< First < Previous Home Next > Last >>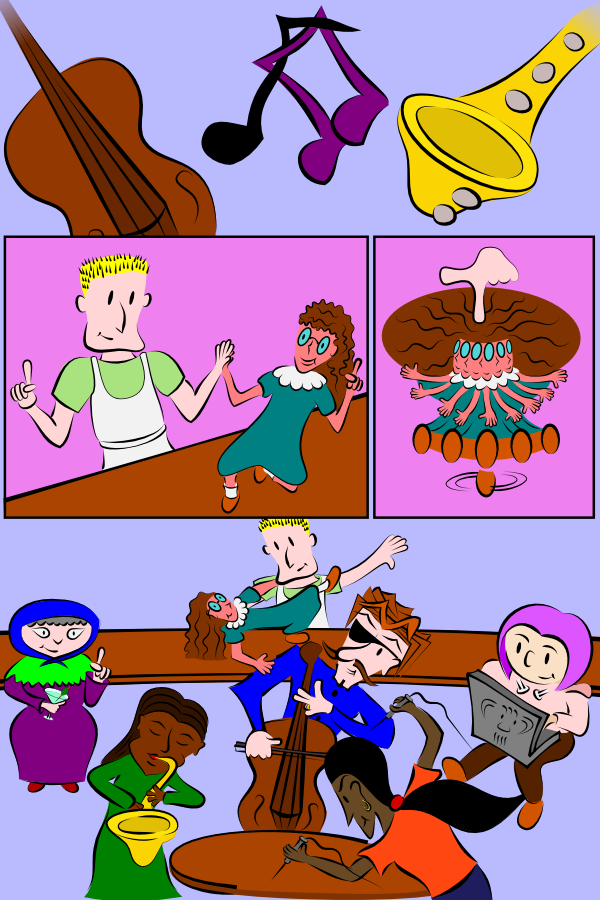 [[Louis's cello and Janice's sax dance around the music]]

[[Meanwhile, Ed and Jersey dance at the bar]]

[[Bubbe wags her finger to the beat as Janice, Louis, Pria, and
 Sara continue to jam]]

          
<< First < Previous Home Next > Last >>
Switch to double page mode (fits images in window)
Home News Archive Credits FAQ Extras Links
June 08, 2011 -- Still Sucking After All These Years
Primus will be releasing Green Naugahyde, their 11th disc and first studio LP in 11 years, on September 13th, 2011. You can read the press release here.
If you haven't heard Primus before, They Can't All Be Zingers is a Rhino-quality best of, but for the full psychedelic polka experience we recommend the EP/DVD Animals Should Not Try to Act Like People, featuring the claymation masterpieces Southbound Pachyderm and The Devil Went Down to Georgia. For a preview of new/old drummer Jay Lane, check out Live Frogs: Set 1.
June 13, 2011 -- Fan Art on King of RPGs
Our fan art has been posted on King of RPGs (you'll need to scroll down past the awesome tattoo-style rendering of role-playing monsters). If you're not familiar with King of RPGs, you can find the original mini-comic here or check out the sample pages from the shiny new books.
June 14, 2011 -- Googling with a Camera
Google Image Search can now take actual images as queries. Try it for yourself (but do take a look at Google's statement about storing uploaded images first).


Electric Puppet Theatre by Mark V is licensed under a Creative Commons Attribution-NonCommercial-ShareAlike 3.0 Unported License.
Permissions beyond the scope of this license may be available at http://eptcomic.com/faq.htm#licensing.