<< First < Previous Home Next > Last >>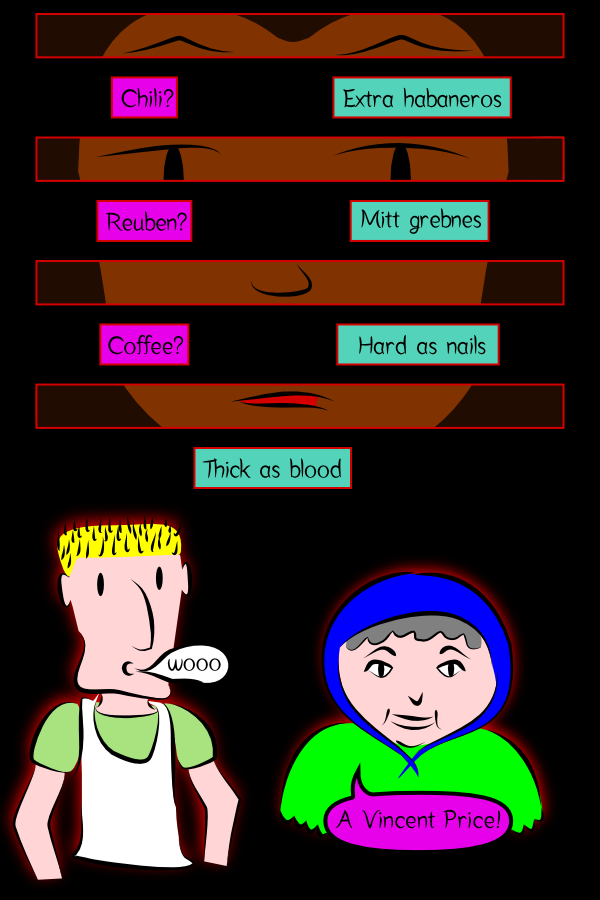 Bubbe: Chili?

Janice: Extra habaneros.

Bubbe: Reuben?

Janice: Mitt grebnes.

Bubbe: Coffee?

Janice: Hard as nails.  Thick as blood.

Ed: Wooo

Bubbe: A Vincent Price!

          
<< First < Previous Home Next > Last >>
Switch to double page mode (fits images in window)
Home News Archive Credits FAQ Extras Links
April 27, 2011 -- In the Dark
Check out the sweet layout in today's Dead Winter.
May 02, 2011 -- Booker T. Jones Tiny Desk Concert
Booker T. Jones plays Green Onions and talks about learning to play the Hammond B3 at NPR today.


Electric Puppet Theatre by Mark V is licensed under a Creative Commons Attribution-NonCommercial-ShareAlike 3.0 Unported License.
Permissions beyond the scope of this license may be available at http://eptcomic.com/faq.htm#licensing.