<< First < Previous Home Next > Last >>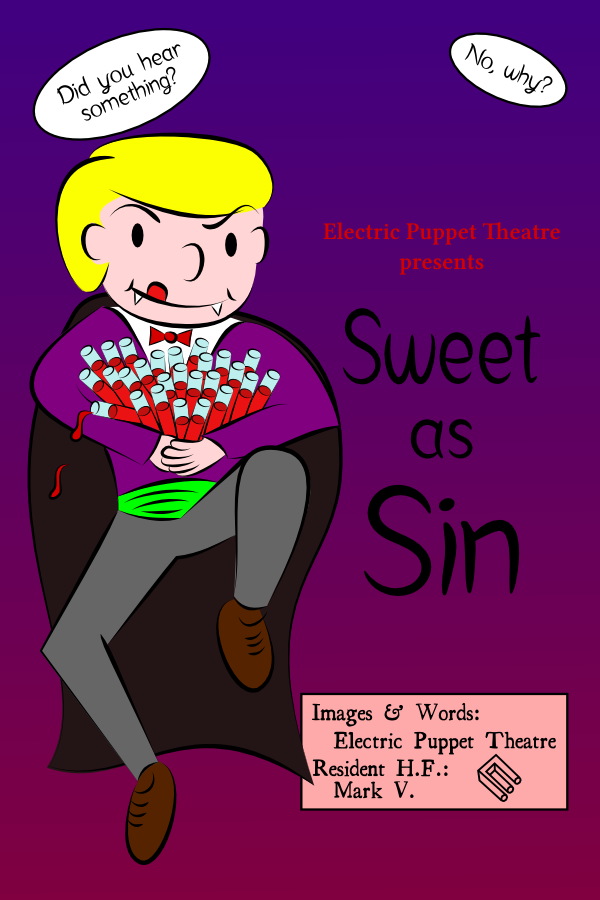 Joel: Did you hear something?

Sara: No, why?

[[Vlad the Vampire runs down the hall, his arms full of blood samples.]]

Credits: Electric Puppet Theatre Presents -- Sweet as Sin

Credits: Images and Words -- Electric Puppet Theatre.  Resident H.F. -- Mark V.

          
<< First < Previous Home Next > Last >>
Switch to double page mode (fits images in window)
Home News Archive Credits FAQ Extras Links
September 21, 2011 -- Fan Art on Lit Brick
Check out our fan art on Lit Brick. For those not in the know, Lit Brick is John Troutman's MST3K-ish jaunt through the Norton Anthology of English Literature (or, as it is known to the literati, The Chronicles of She-Jesus).
September 25, 2011 -- Get Fed
Because we will jump at any excuse to animate a foul-mouthed koala:
Seriously, go read A Girl and Her Fed -- it is uniquely milk-out-the-nose funny.
September 25, 2011 -- EPT in Print
We just received the first print copy of Electric Puppet Theatre chapter 1 and it looks great. We've put up some photos here.


Electric Puppet Theatre by Mark V is licensed under a Creative Commons Attribution-NonCommercial-ShareAlike 3.0 Unported License.
Permissions beyond the scope of this license may be available at http://eptcomic.com/faq.htm#licensing.