<< First < Previous Home Next > Last >>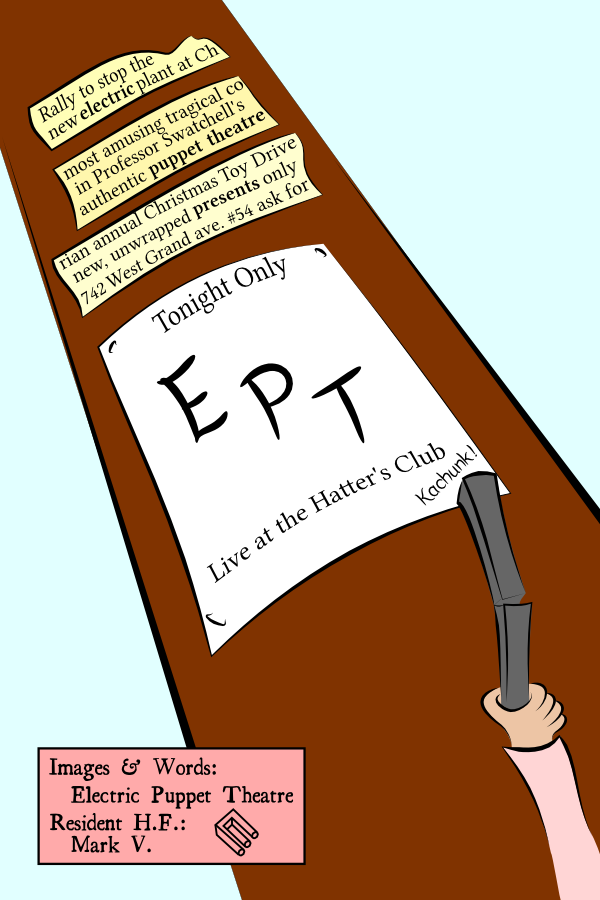 [[Scraps of old fliers on a telephone pole]]

Rally to stop the
new ELECTRIC plant at Ch...

most amusing tragical co... 
in Professor Swatchell's
authentic PUPPET THEATRE

...rian annual Christmas Toy Drive
new, unwrapped PRESENTS only
742 West Grand ave. #54 ask for

[[A new poster is being stapled to the pole]]

Tonight Only

E
 P
  T

Live at the Hatter's Club

[[Kachunk!]]

Credits: Images and Words -- Electric Puppet Theatre.  Resident H.F. -- Mark V.

          
<< First < Previous Home Next > Last >>
Switch to double page mode (fits images in window)
Home News Archive Credits FAQ Extras Links
February 22, 2012 -- Happy Birthday to EPT
To celebrate the one year anniversary of Electric Puppet Theatre we made a video showcasing our favorite art from the first two chapters.
or you can watch it on YouTube here.
February 25, 2012 -- He Paints!
If you like our making-of movies, you should totally check out Thijme Termaat's stop motion videos of his paintings. Very cool art!
February 27, 2012 -- Play it again, Sozer
Nice interview with Matthew Bogart of The Chairs Hiatus.


Electric Puppet Theatre by Mark V is licensed under a Creative Commons Attribution-NonCommercial-ShareAlike 3.0 Unported License.
Permissions beyond the scope of this license may be available at http://eptcomic.com/faq.htm#licensing.