<< First < Previous Home Next > Last >>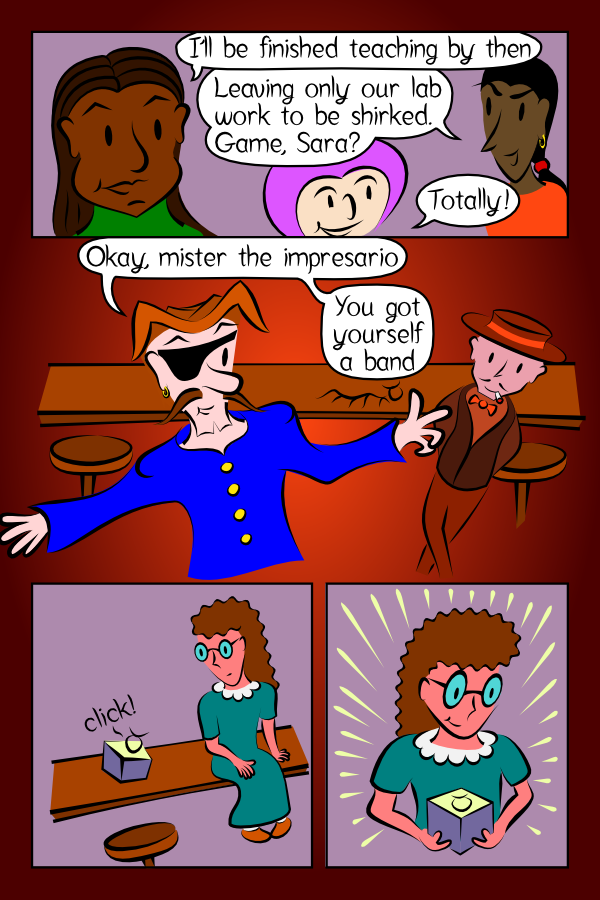 Janice: I'll be finished teaching by then.

Pria: Leaving only our lab work to be shirked.  Game, Sara?

Sara: Totally!

Louis: Okay, mister-the-impressario, you got yourself a band.

[[The amulet-insectoid crawls across the counter]]

[[The amulet transforms again, closing itself into a box]]

[[Jersey looks down and picks up the amulet box]]

          
<< First < Previous Home Next > Last >>
Switch to double page mode (fits images in window)
Home News Archive Credits FAQ Extras Links
August 03, 2012 -- Contact
James Gurney makes a special delivery.
August 06, 2012 -- Free Wizards!
In celebration of the landing of the Curiosity Rover, Diane Duane is offering a free ePub of A Wizard of Mars A Wizard of Mars is the ninth book in the Young Wizard series, one of our favorite fantasies and a big influence on Electric Puppet Theatre. (The offer is only good until midnight 8/6/2012, so act fast!)


Electric Puppet Theatre by Mark V is licensed under a Creative Commons Attribution-NonCommercial-ShareAlike 3.0 Unported License.
Permissions beyond the scope of this license may be available at http://eptcomic.com/faq.htm#licensing.