<< First < Previous Home Next > Last >>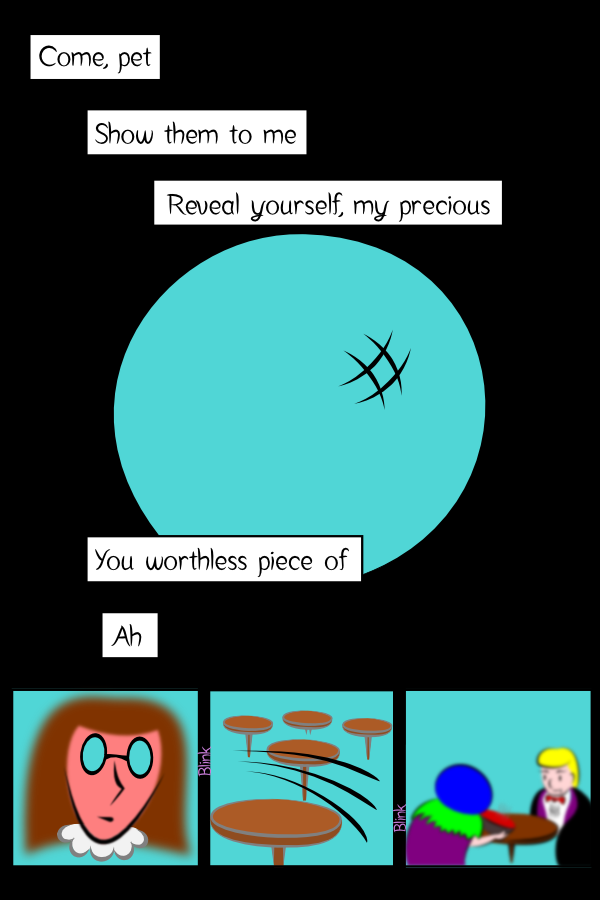 Voice: Come, pet, show them to me

Voice: Reveal yourself, my precious

[[A crystal ball shows nothing]]

Voice: You worthless waste of...

Voice: Ah...

[[Jersey's blurry face appears]]

[[Blink]]

[[The view sweeps across the club]]

[[Blink]]

[[and comes to rest on a table]]

          
<< First < Previous Home Next > Last >>
Switch to double page mode (fits images in window)
Home News Archive Credits FAQ Extras Links
February 07, 2013 -- Storyboards
Candorville's Darren Bell takes on The Sandman.
February 08, 2013 -- More Noir
The Q&A session from Laura J. Mixon and Steven Gould's reading at SF in SF is now up.
February 09, 2013 -- Woogie Boogie
The downtown Berkeley BART station is the hot place to discover new music. A few months ago, we caught Deep Chatham, and last night we were treated to a raucous performance by The John Brothers Piano Company. Evoking brothers Harpo and Chico, the Johns hurtle through original compositions a la Yann Tiersen and the Tin Hat Trio with pandemonic energy. Check out their live show and album.


Electric Puppet Theatre by Mark V is licensed under a Creative Commons Attribution-NonCommercial-ShareAlike 3.0 Unported License.
Permissions beyond the scope of this license may be available at http://eptcomic.com/faq.htm#licensing.