<< First < Previous Home Next > Last >>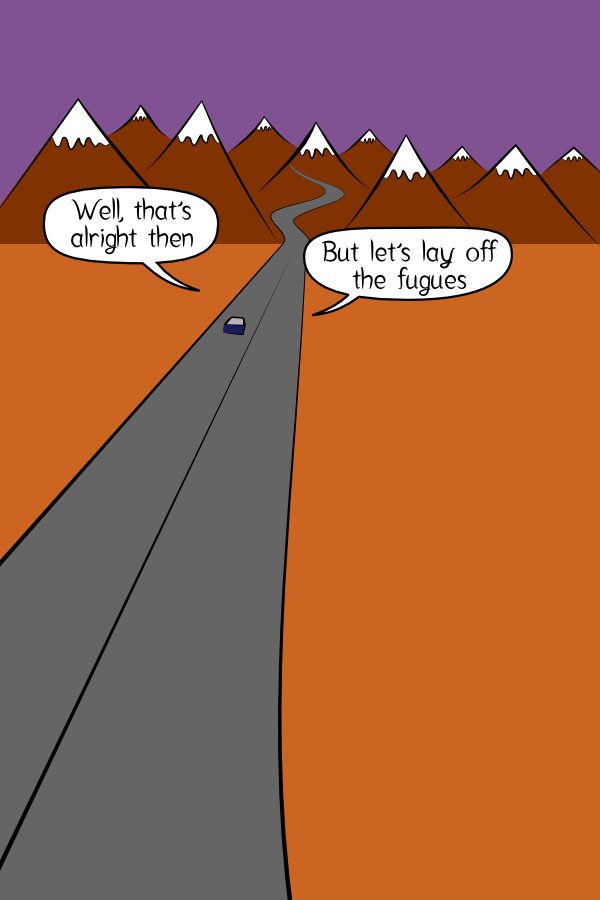 [[The car continues into the mountains]]

Sara: Well, that's alright then.
Sara: But let's lay off the fugues.

[[A road worker, standing in coveralls monogrammed "CH", holds a "SLOW" sign]]

          
<< First < Previous Home Next > Last >>
Switch to double page mode (fits images in window)
Home News Archive Credits FAQ Extras Links
May 04, 2013 -- Free Comic Book Day
In celebration of Free Comic Book Day, we've added free PDF and CBZ copies of chapter one to the extras page for your offline reading pleasure. Please take advantage of our Creative Commons license (CC-BY-NC-SA) and share them with your friends.


Electric Puppet Theatre by Mark V is licensed under a Creative Commons Attribution-NonCommercial-ShareAlike 3.0 Unported License.
Permissions beyond the scope of this license may be available at http://eptcomic.com/faq.htm#licensing.