<< First < Previous Home Next > Last >>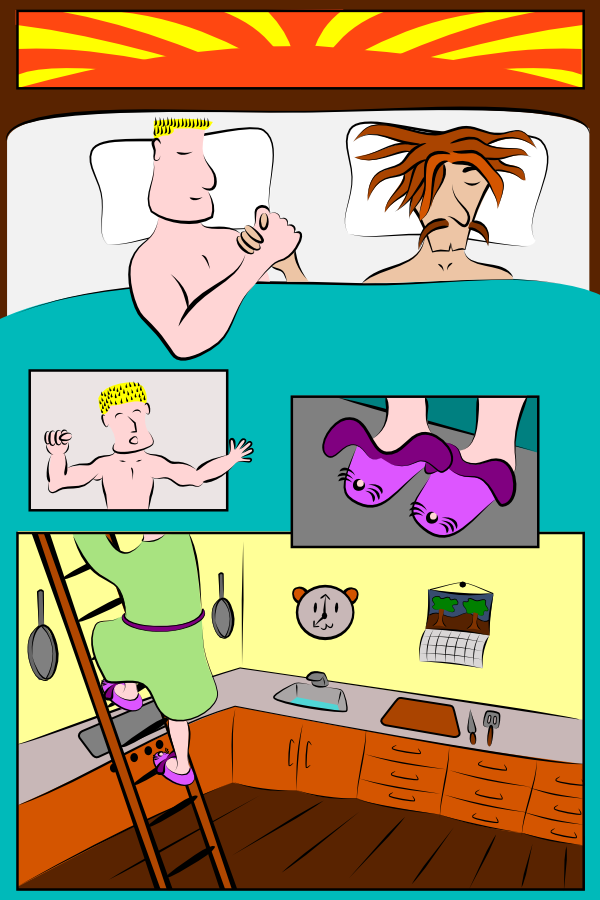 [[The sun rises]]

[[Ed and Louis sleep, holding hands]]

[[Ed wakes up...]]

[[...puts on his bunny slippers...]]

[[...and climbs down the ladder to the kitchen]]

          
<< First < Previous Home Next > Last >>
Switch to double page mode (fits images in window)
Home News Archive Credits FAQ Extras Links
July 23, 2011 -- Howl at The Cartoon Art Museum
We just saw the Howl exhibit at the Cartoon Art Museum. Amazing huge non-photorealistic 3D renderings of stills from the animation, tons of concept art and story boards (including, surprisingly, work from The Norm's Michael Jantze), and photos of beat poets taken by other beat poets. Totally worth checking out if you're in downtown San Francisco.
(Fans of the poem will also want to track down the Kronos Quartet's Howl USA, featuring avante garde string music over recordings of Allen Ginsberg, I.F. Stone, J. Edgar Hoover, and more).


Electric Puppet Theatre by Mark V is licensed under a Creative Commons Attribution-NonCommercial-ShareAlike 3.0 Unported License.
Permissions beyond the scope of this license may be available at http://eptcomic.com/faq.htm#licensing.