<< First < Previous Home Next > Last >>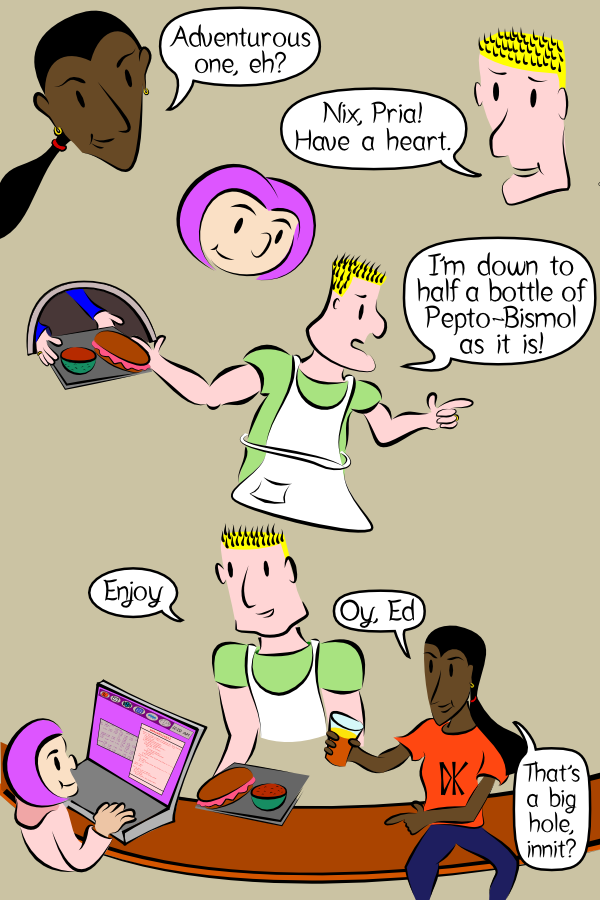 Pria: Adventurous one, eh?

Ed: Nix, Pria!  Have a heart.

[[A mysterious pair of hands give Ed a platter with a Reuben and a bowl of chili]]

Ed: I'm down to half a bottle of Pepto-Bismol as it is!

[[Ed places the platter in front of Sara.  She looks up from her laptop]]

Ed: Enjoy.

Pria: Oy, Ed.  That's a big hole, innit?

          
<< First < Previous Home Next > Last >>
Switch to double page mode (fits images in window)
Home News Archive Credits FAQ Extras Links
April 15, 2011 -- Buddy Holly Teaser
And the movie based on Bradley Denton's Buddy Holly is Alive and Well on Ganymede inches one step closer to reality with this development teaser trailer. If this doesn't strike you in immediate and Pavlovian fashion, it's probably because you haven't read the book. Easily remedied -- Denton has made the book available in all its stranger-than-Buckaroo-Banzai glory in myriad formats at ManyBooks as a free (by-nc-nd) download. Enjoy!
April 18, 2011 -- Fan Art on Paradigm Shift
Check it out -- Dirk Tiede has posted our fan art on Paradigm Shift! If you aren't already reading Paradigm Shift, why not start at the beginning? Come for the backgrounds, stay for the banter!
(Of course, the acme of Paradigm Shift gift art is due to Shaenon Garrity).


Electric Puppet Theatre by Mark V is licensed under a Creative Commons Attribution-NonCommercial-ShareAlike 3.0 Unported License.
Permissions beyond the scope of this license may be available at http://eptcomic.com/faq.htm#licensing.