<< First < Previous Home Next > Last >>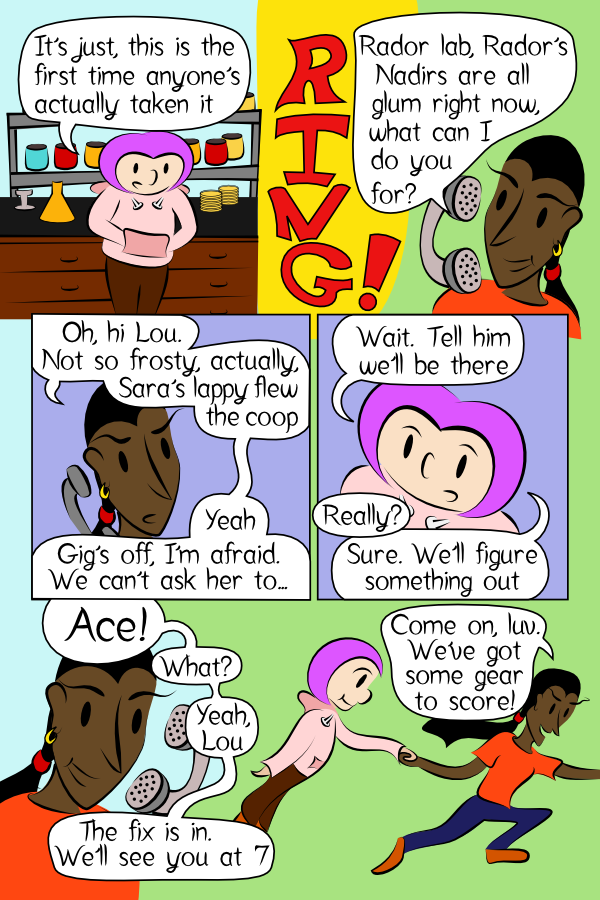 [[Back in the present]]

Sara: It's just, this is the first time anyone's actually taken it

[[RING!]]
[[Pria answers the phone]]

Pria: Rador lab, Rador's Nadirs are all glum right now, what can I do you for?

Pria: Oh, hi Lou.  Not so frosty, actually, Sara's lappy flew the coop.
Pria: Yeah.  Gig's off, I'm afraid.  We can't ask her to...

Sara: Wait.  Tell him we'll be there.
Pria: Really?
Sara: Sure.  We'll figure something out.

Pria: Ace!
Pria: What?
Pria: Yeah, Lou.
Pria: The fix is in.  We'll see you at 7.

Pria: Come on, luv.  We've got some gear to score!


          
<< First < Previous Home Next > Last >>
Switch to double page mode (fits images in window)
Home News Archive Credits FAQ Extras Links
May 18, 2012 -- Dialogue-Free Comics Day
Today is the third annual Dialog Free Comics Day. As it happens, we are awfully chatty this year, but you can check out those comics hep enough to keep their yaps shut at Noel Curry's site.
May 20, 2012 -- Free Socks!
John Troutman has put up the first 37 pages of Mary Elizabeth's Sock as a free cbz download (yes, the comics are already free, but the download offers a nifty off-line reading experience and features images at 1.5 times the resolution of their web counterparts).
The download is available here along with suggested cbz readers for various platforms. For Linux, we suggest Comix.


Electric Puppet Theatre by Mark V is licensed under a Creative Commons Attribution-NonCommercial-ShareAlike 3.0 Unported License.
Permissions beyond the scope of this license may be available at http://eptcomic.com/faq.htm#licensing.