<< First < Previous Home Next > Last >>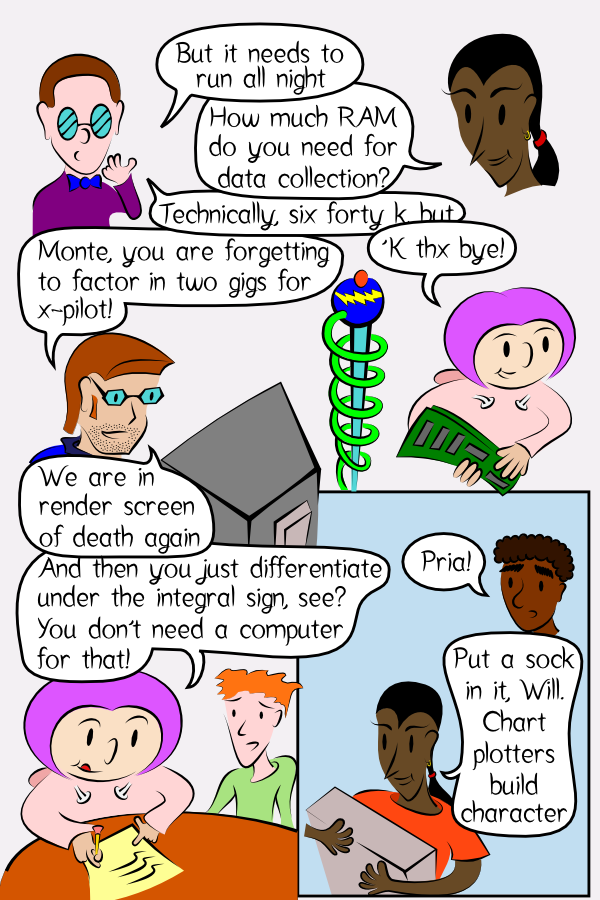 [[Pria and Sara ransack the lab building for computer parts]]

Monte: But it needs to run all night
Pria: How much RAM do you need for data collection?
Monte: Technically, 640k but...
Sara: 'K thx bye!
Pitr: Monte, you are forgetting to factor in two gigs for x-pilot!
Pitr: We are in render screen of death again

Sara: And then you just differentiate under the integral sign, see?  You don't need a computer for that!

Will: Pria!
Pria: Put a sock in it, Will.  Chart plotters build character.

          
<< First < Previous Home Next > Last >>
Switch to double page mode (fits images in window)
Home News Archive Credits FAQ Extras Links
May 26, 2012 -- Zombie Western
Check out the new video for Lee Van Cleef, our favorite cut from Primus's Green Naugahyde.
May 26, 2012 -- Gource Animation
Just updated our movie page with a Gource-based animation of the full EPT repository. Unlike our previous movies this one is file-based, so you can see us flitting about amongst the chapter directories and website code. As always, the video is available for download as well as on YouTube.


Electric Puppet Theatre by Mark V is licensed under a Creative Commons Attribution-NonCommercial-ShareAlike 3.0 Unported License.
Permissions beyond the scope of this license may be available at http://eptcomic.com/faq.htm#licensing.