<< First < Previous Home Next > Last >>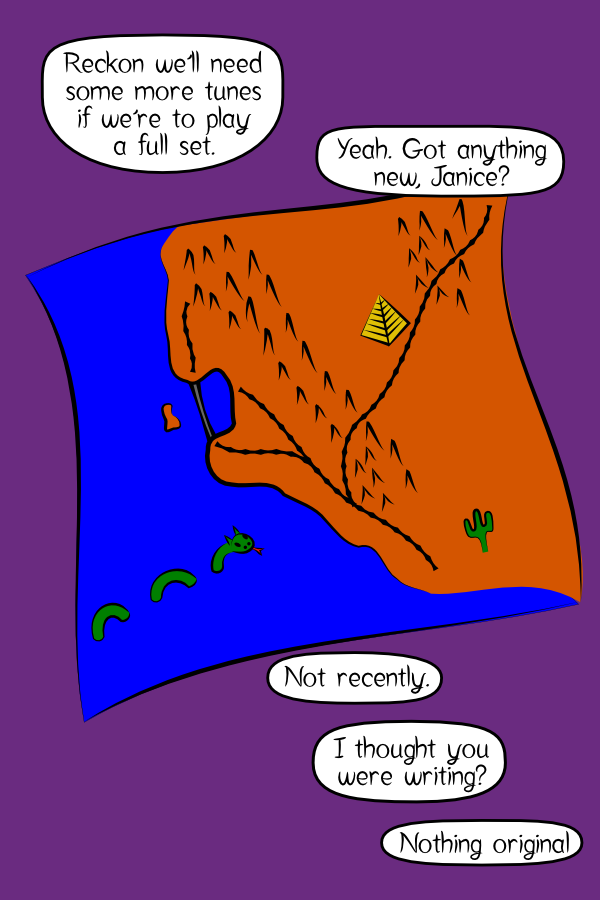 [[The Puppets talk as they trek across the state]]

Pria: Reckon we'll need some more tunes if we're to play a full set.
Sara: Yeah. Got anything new, Janice?
Janice: Not recently.  I thought you were writing?
Sara: Nothing original.

          
<< First < Previous Home Next > Last >>
Switch to double page mode (fits images in window)
Home News Archive Credits FAQ Extras Links
April 15, 2013 -- Excellent Pairing
Ron "Monkey Island" Gilbert's bookshelf -- copies of his games nestled between Orson Scott Card's Characters and Viewpoint and Scott McCloud's Understanding Comics trilogy -- now that's good taste.
April 15, 2013 -- Cyborg Thriller
K.B. "Otter" Spangler has finished her first novel, The Digital Divide, and it's everything one would hope for from the razor wit behind A Girl and Her Fed. Pick up this treat of a sci-fi cyborg detective thriller in pdf, epub, or kindle format.


Electric Puppet Theatre by Mark V is licensed under a Creative Commons Attribution-NonCommercial-ShareAlike 3.0 Unported License.
Permissions beyond the scope of this license may be available at http://eptcomic.com/faq.htm#licensing.