<< First < Previous Home Next > Last >>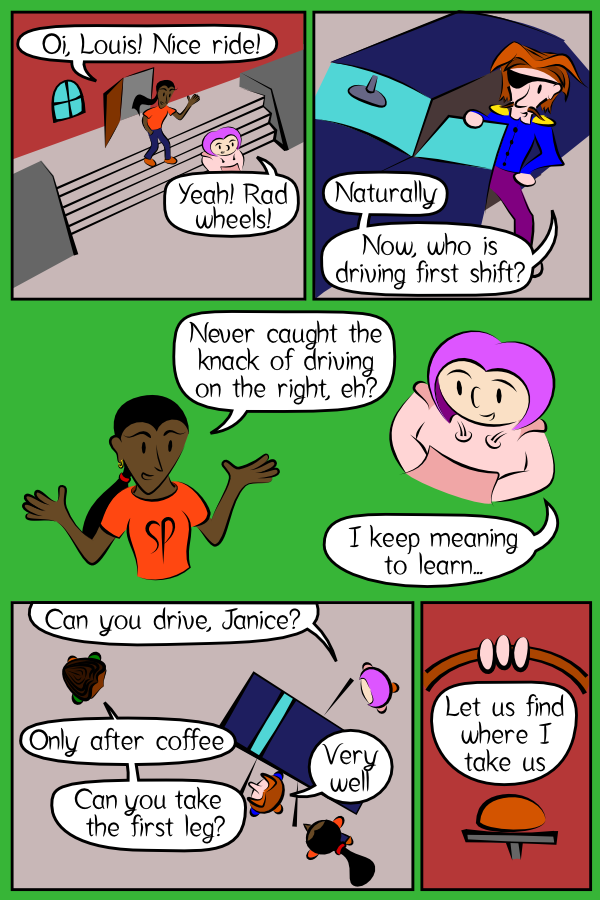 [[Pria and Sara walk out of a campus building]]
Pria: Oi, Louis!  Nice Ride!
Sara: Yeah!  Rad wheels!

[[Louis waits by his car]]
Louis: Naturally.
Louis: Now, who is driving first shift?

Pria: Never caught the knack of driving on the right, eh?
Sara: I keep meaning to learn...

[[Janice joins them]]
Sara: Can you drive, Janice?
Janice: Only after coffee
Janice: Can you take the first leg?
Louis: Very well.

[[He steps on the gas]]
Louis: Let us find where I take us.

          
<< First < Previous Home Next > Last >>
Switch to double page mode (fits images in window)
Home News Archive Credits FAQ Extras Links


Electric Puppet Theatre by Mark V is licensed under a Creative Commons Attribution-NonCommercial-ShareAlike 3.0 Unported License.
Permissions beyond the scope of this license may be available at http://eptcomic.com/faq.htm#licensing.