<< First < Previous Home Next > Last >>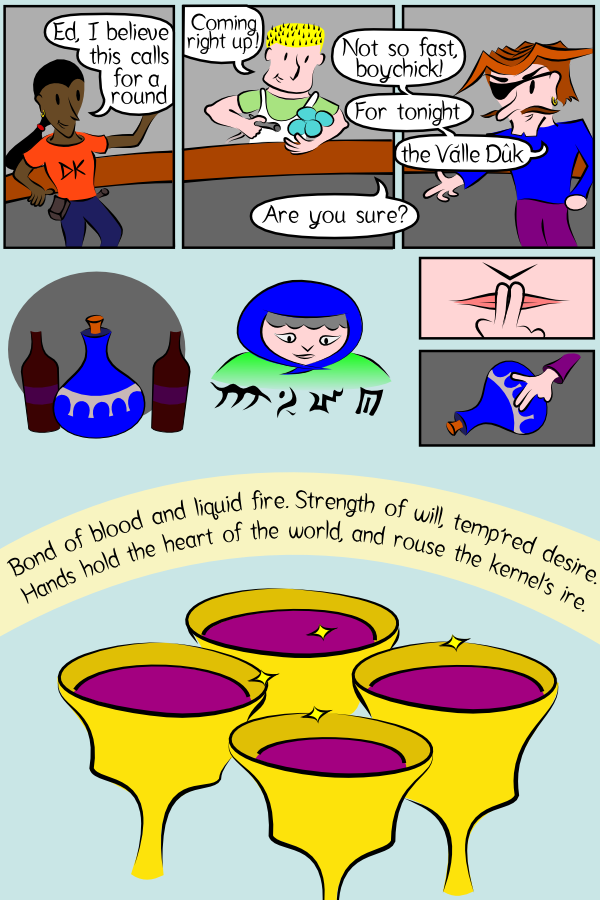 Pria: Ed, I believe this calls for a round.

Ed: Coming right up!

Louis: Not so fast, boychick!  For tonight, the Valle Duk.

Ed: Are you sure?

[[A blue jug is found between two dusty wine bottles]]

[[Bubbe intones an incantation in an alien tongue]]

[[Bubbe touches her fingers to her lips]]

[[and then touches the jug]]

[[Four goblets are raised together]]

Toast: Bond of blood and liquid fire.  Strength of will, temp'red desire.  
Hands hold the heart of the world, and rouse the kernel's ire.

          
<< First < Previous Home Next > Last >>
Switch to double page mode (fits images in window)
Home News Archive Credits FAQ Extras Links


Electric Puppet Theatre by Mark V is licensed under a Creative Commons Attribution-NonCommercial-ShareAlike 3.0 Unported License.
Permissions beyond the scope of this license may be available at http://eptcomic.com/faq.htm#licensing.