<< First < Previous Home Next > Last >>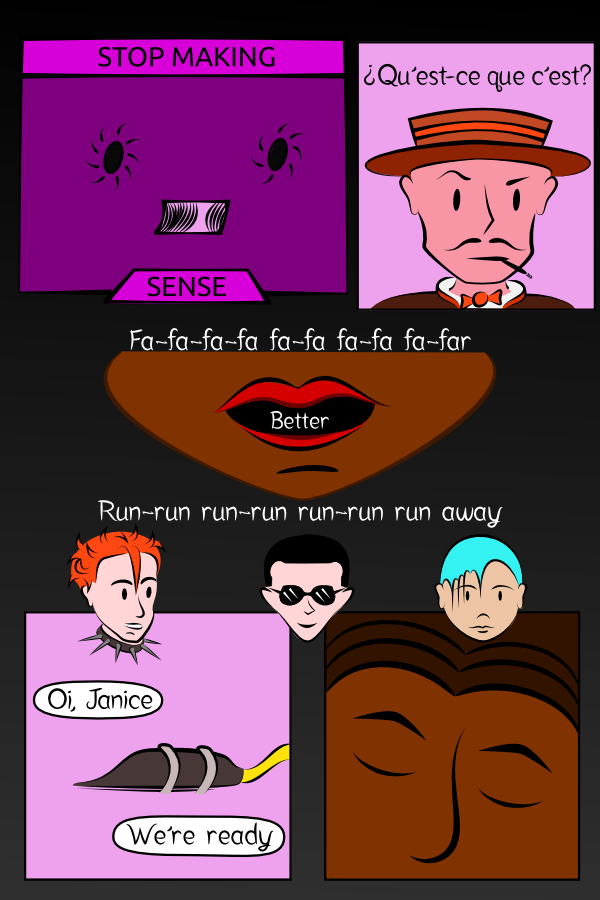 [[Tape: STOP MAKING SENSE]]

Man in crowd: Qu'est-ce que c'est?

Janice: Fa-fa-fa-fa fa-fa fa-fa fa-far

Janice: Better

Janice: Run-run run-run run-run run away

Pria: Oi, Janice
Pria: We're ready

[[Janice raises her sax to her lips]]

          
<< First < Previous Home Next > Last >>
Switch to double page mode (fits images in window)
Home News Archive Credits FAQ Extras Links
June 27, 2012 -- Dancing Solo
Happy 50th page to Dancing Solo
June 27, 2012 -- Free Vittles
Tyler Nothing Better Page just dropped the Stylish Vittles 10th Anniversary Collection eBook -- a pdf of all three volumes of his first comic plus hundreds of pages of thumbnails, scripts, and sketches. Check it out here!
June 29, 2012 -- Monster of the Week
New comic from Shaenon Garrity: Monster of the Week -- wherein each Friday she posts a 12 panel recap of an X-Files episode ("because it's awesome")
July 03, 2012 -- Sleep Furiously
It's time for another Chompskian romp with Shaenon Garrity -- Colorless Green Ideas!


Electric Puppet Theatre by Mark V is licensed under a Creative Commons Attribution-NonCommercial-ShareAlike 3.0 Unported License.
Permissions beyond the scope of this license may be available at http://eptcomic.com/faq.htm#licensing.